Saturday, 30 June 2012
Tutorial - How to apply Water Nail Art Decals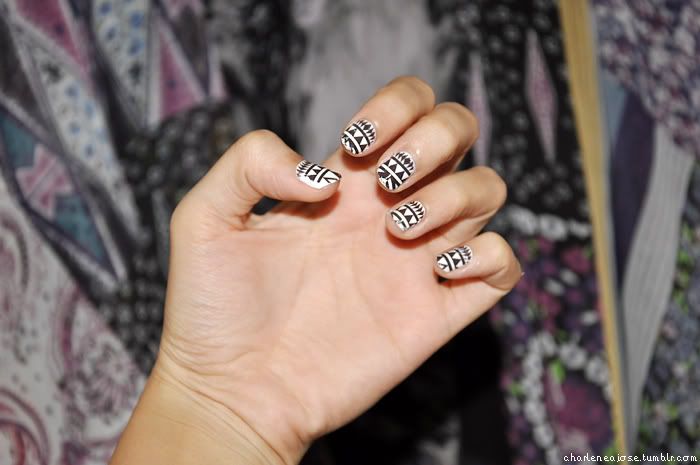 Hello there! Before I get to the tutorial, I have a little announcement to make. I will soon be changing into a theme that supports high resolution photos! However, since I do not have the time to edit the whole of my blog yet, I'm starting bit by bit with my images! So, if you're viewing this on the dashboard and all you see are texts and little grey boxes, all you have to do is click on those to view the photos. Please bear with me as my blog will be under construction for an indefinite time. :D
Now on to my post! Everything's Mine sent me an aztec nail decal set along with the other aztec printed articles (which I used in this post) some weeks ago. I was supposed to use all of them on the same day, but unfortunately I had to cut my nails super short that time because I had my clinical duty. I am currently enjoying my long weekend (no classes since yesterday! Wooh!) and I took that time to make this post. So before I bore you with all my talking (or typing, whatever haha!) here's how you apply water nail art decals.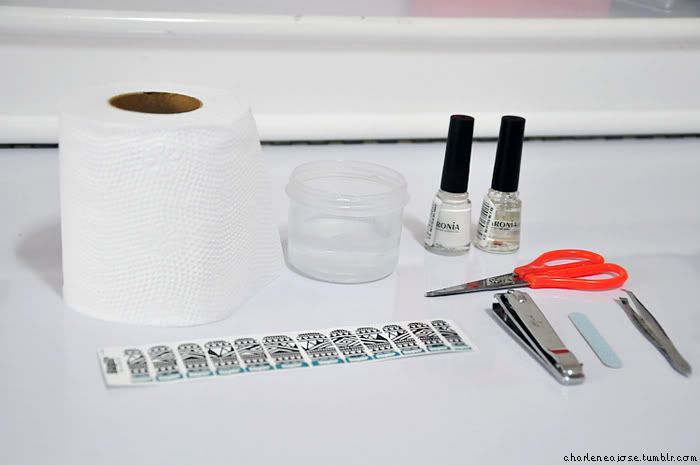 Things you will need:
1. Water nail art decal set (courtesy of Everything's Mine)

2. Water

3. Clear nail polish

4. A pair of scissors

5. Tweezers

6. Tissue

7. Nail file

8. Nail cutter

9. Trash bin (Clean as you go!)
Step 1 - Start with clean nails. Cut away broken ends with a nail cutter if you have to. I added white polish (because the background of my nail decal set is white) on mine so that in case I mess up, my mistake won't be that noticeable. You don't really have to do this, though. Please forgive my being obsessive compulsive. Haha!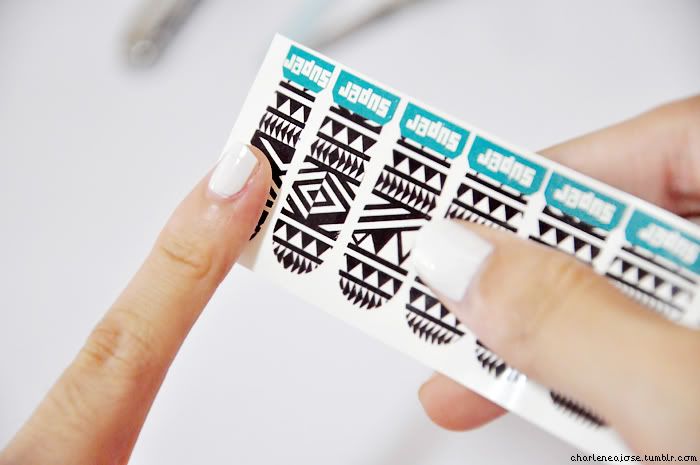 Step 2 - Lay the decals against your nails and determine which decal goes with which nail. They are usually already arranged by size though, so this won't be too hard. :)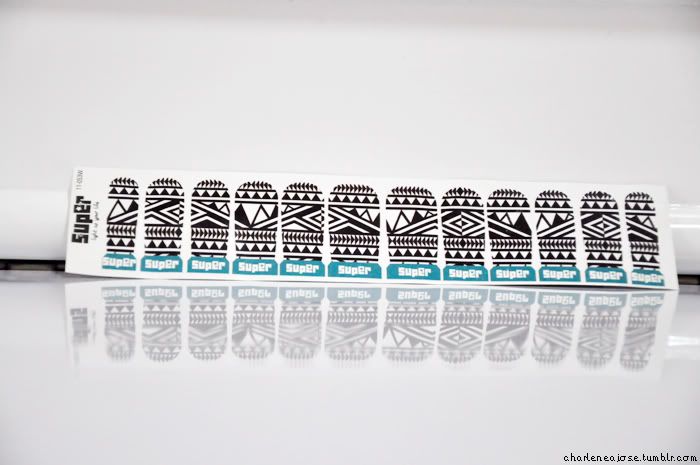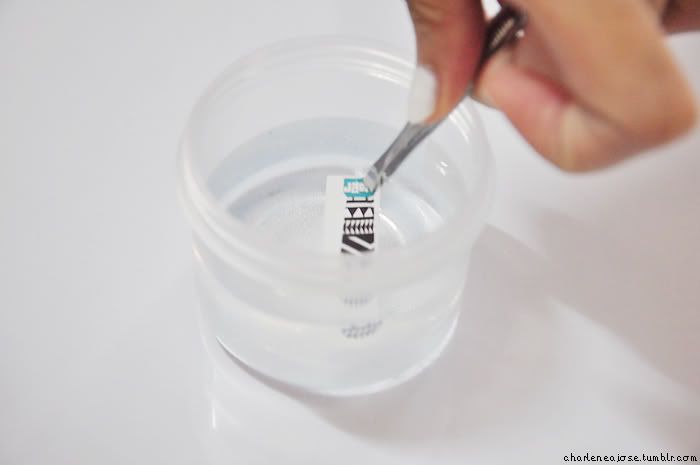 Step 3 - Cut away the part you're going to use. Make sure to cut carefully so as not to ruin the design. Then soak the decal in water for about 10-15 seconds.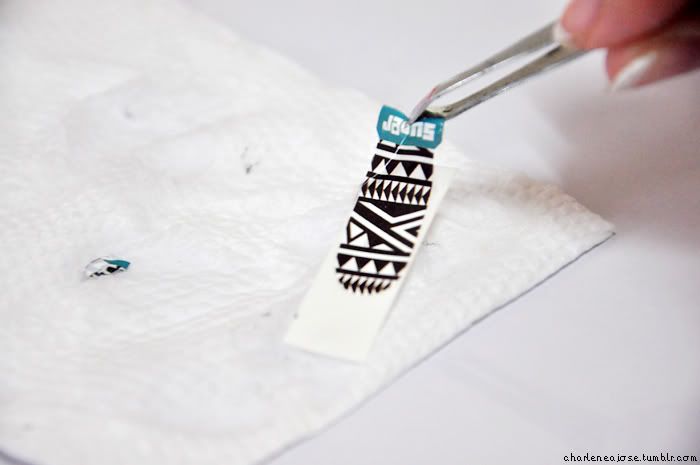 Step 4 - Carefully lift out the decal from the water, place it on top of tissues (to absorb the excess water) and slowly peel the design off from the paper backing using your tweezers. If you're not comfortable with the tweezers you can also use your fingers.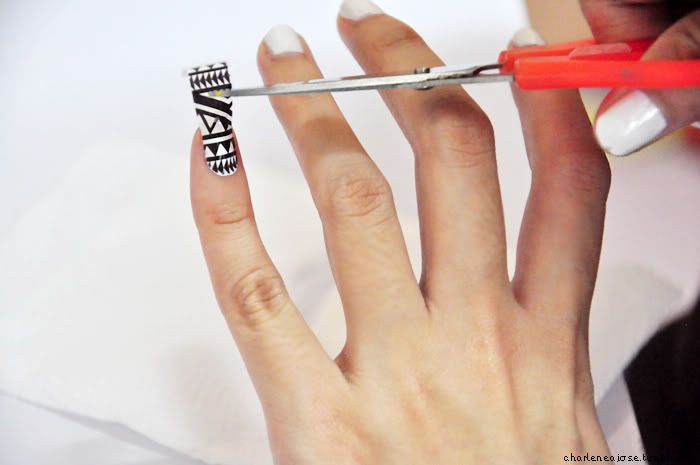 Step 5 - Place the decal on top of your nail and pad it gently with tissue (again to absorb the excess water and to secure it in place) Then, get your scissors and carefully cut away the excess as near to the end of your nails as possible. My nails aren't really that long so the excess I gave for my cousin to use (she did the decals on my right hand. Haha!) As I always say, never throw away anything you can still use! ;)
Step 6 - Get your clear polish and place a layer of it on top of the decal. Make sure to move fast because the excess decal will 'dissolve' within five seconds (it will curl into itself!) Take away the dissolved part using the end of your tweezers (You can also use a stick, or anything that has a pointed end) Lastly, use a nail file for a polished look.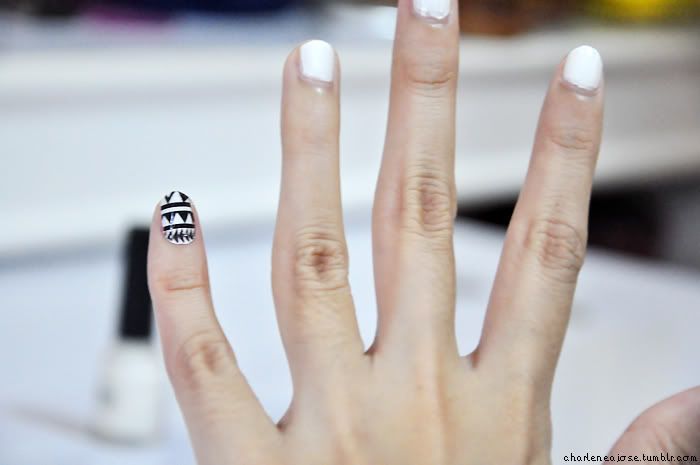 Here is what you should end up with! Do steps one to six on all your fingers. Make sure to let the polish dry thoroughly.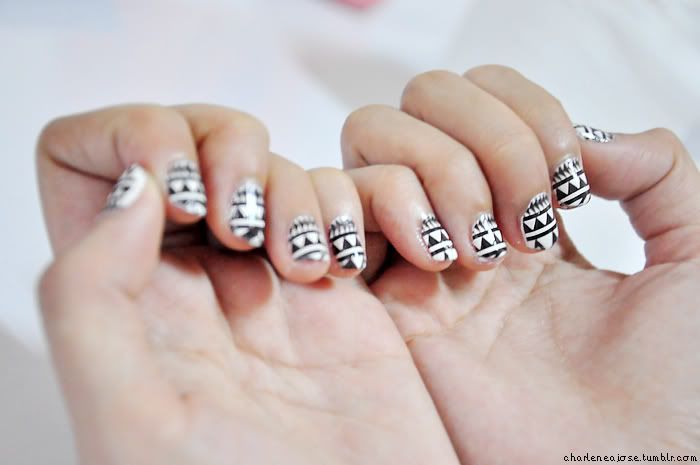 After about 20 minutes or so, you will end up with something like this! Yay! Don't forget to clean up your area afterwards, okay?
Tell me how you did and send me photos! I would love to see them! (chrlnajose@yahoo.com , Twitter - @charleneajose)
Thanks again to Everything's Mine for these. Me and my little sister got hooked. We would definitely be purchasing more of these in the future! <3
That's it. Thank you so much for reading and have a good night! :D
Photos by: Me and Chelsea Ajose
Comments are highly appreciated. Thank you! :)
#nails
#nail art
#aztec
#nail stickers
#nail decals
#tutorials
#Everything's Mine
#sponsored