Wednesday, 19 March 2014
2,103,796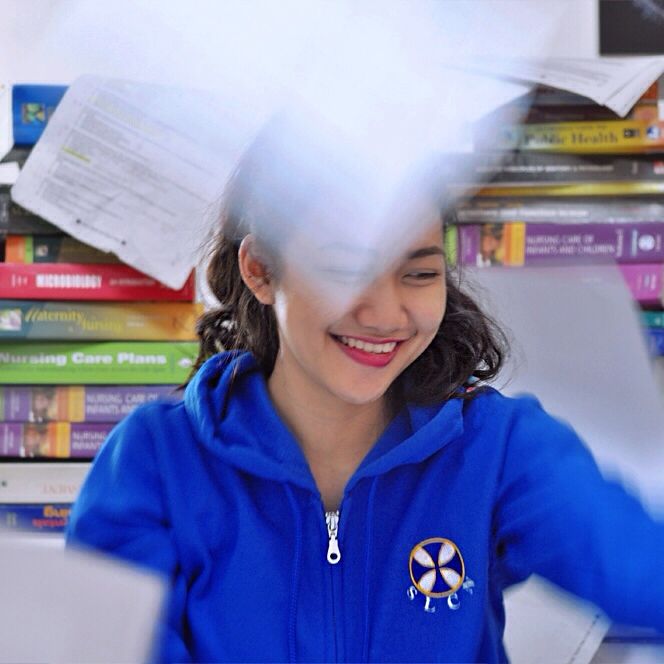 Two Million One Hundred and Three Thousand Seven Hundred and Ninety Six

One of the few things I find the hardest to write about is a narrative of experiences stretched over a long period of time. One is because I almost always have a side comment for everything (this is an example, AKA me trying to prove a point) that I tend to lose focus on the main subject. Another is that I have a tendency to get carried away and branch out to another topic (whether related or not) and third is because I never know where to start.

A lot can happen in a minute. Here's my attempt at narrating what I learned during the other 2,103,795.

525,949 – The Beginning

Fact number one: I never thought about taking up Nursing. Fact number two: Fact number one pushing through anyway was something I already kind of expected.

I have always considered myself a Jack of all trades – a master of none, though often times better than a master of one. I can still remember the day our Guidance Councilor called each of us to her office for the results of our National Career Assessment Exams, a test that aims to guide graduating High School students as to what career path they would take in the future. She told me straight up that with my scores, I could take up any course, and that it's just a matter of me to choose which one. Although very reassuring, what she said wasn't very helpful advice for someone who wants to be so many things all at once. I have always been a jumble of somethings ever since I could remember [1], and I am always all over the place, doing a little bit of this and a little bit of that. Four years after, I am still the same person, although a bit more subdued, and someone who now knows her priorities. I entered Nursing school because 15 year old me couldn't decide which course to take, so I took what my parents wanted for me.

For the record, it's probably one of the best decisions I've ever made.

1,051,898

The first year was a whirlwind for me. I went to two different schools in a span of one year, transferring from one college to another because of personal reasons (mainly out of stubbornness and problems with the parents, never out of academic reasons) The hardest part of this, I think, is making new attachments only to find out that the ties have to be cut sooner or later. School wise, however, it's great to have a feel of what makes each institution unique from each other, and that with every transfer you get to add another token to your piggybank of experiences.

1,577,847 - 2,103,796

A year came and went, and I enrolled in my last (and present) University. I wouldn't be able to put into words the things the past four years of learning has taught me. But I am a firm believer in trying and failing than sitting there and doing nothing, only to end up wondering, so here's a mini summary of what the past 2,103,796 minutes of nursing school taught me.

1. Stress makes you do stupid (or funny, definitely funny) things.
2. You will see what other people won't get to see in their lifetimes. You will touch, hear, smell, or even taste unthinkable stuff. Nothing, I repeat, nothing, will ever gross you out anymore.
3. Open Mindedness.
4. The importance of camaraderie. *cue SLCN the Blue, Gold, and white! The best of the best, alright!*
5. There's no party like an elevator party.
6. Babies are one the cutest things ever.
7. That November 17, 2013 was a pretty special day.
8. PRC forms are your best frie…actually no, they are your worst enemies.
9. What happens in clinicals, stays in clinicals.
10. CTRL + S will save your life. (I just did it. Just did it again. Just to make sure…)
11. When in doubt, wash your hands.
12. Time is of the essence. I am one of the biggest procrastinators in the world (I am typing this paper at 12:21AM of March 8, 2014) but I do it because it is what works for me. However, this won't always be applicable all the time, so one should learn to do things in advanced, as much as possible.
13. There is a first time for everything.
14. Sleep is your best friend. As long as you do it in the right place, and in the right time. Pwede rin with the right person, but that's another story.
15. "Tell me more."
16. You will start dating your homework. No? YES.
17. Always, always, ALWAYS think long term. Whether you like it or not, the decisions you make today will determine where you will find yourself tomorrow. A few years back I honestly couldn't answer what I plan to do in five, ten, twenty years from now. The security of having goals and a plan to go with it is very comforting. Try mo din minsan kapag may time.
18. Appreciation. Everything you have right now, you owe in part to someone. Be thankful for your friends, you wouldn't be able to bear school without them. Be thankful for your professors, because duh. And most importantly, be thankful for your parents. We will never be able to know about all the sacrifices they've made for us. They are with us in this battle. Don't leave them behind.
19. Respect. Accept that you aren't perfect, and that other people aren't too. Learn to respect other people's opinions, so they would respect yours too.
20. Discipline. Set study schedules and follow through with them. Minimize distractions as much as possible. Turn off the Wi-Fi, or throw away your phone. Up to you.
21. Dedication.
22. After learning about Airway, Breathing and Circulation, you'd think you'd be so pro at prioritization. Time management and focus is the key. Learn to sacrifice. La Boracay will always be there. Your 8am Cardiology class won't.
23. The quote "Imagine yourself in someone else's shoes" never made so much sense. Practice empathy. It's a great thing.
24. Have faith. Whether you believe in a God or not, in times of weaknesses, it's always nice to have something to hold on to.
25. We are all capable of making mistakes. It's up to us if we want to ignore them, or charge it to experience and learn from them. We will all have bad days, but always keep in mind that just because you had a bad day, does not necessarily mean you have bad life.

More than the knowledge I gained from my lectures, more than the people I've met and worked with, more than the lives I've touched (whose lives consequently touched mine back) there is one ultimate lesson that I learned from the past four years. Nursing has taught me how to become a better person, not only for myself, but for all the others I've met, and will soon meet.
CTRL + S :)
*This is an actual homework. ✌️
#school
#nursing
#charleneajose
#SLCN