Friday, 18 October 2013
You Blue me Away
Hype this look "You Blue me Away" on Lookbook.nu! Please hit that "fan" button too! <3
Electric blue floral printed peplum dress - courtesy of Get Laud!
Metallic toe cap flats - courtesy of ENZO Shoppe
GET LAUD Turns 9! Come and celebrate our 9th birthday at GET LAUD! With every purchase worth of Php 1,200 on a single receipt, you get a FREE GET LAUD loot bag! And on all Wednesdays this month, you BUY 1, GET 1 on all GET LAUD items. So don't miss these exciting offers from October 1 to 31, 2013!
Hello! Just a quick post to show you guys what I wore to a seminar my batch organized as a part of our Nursing Leadership and Management subject some days ago! I was under the Arts Committee and part of our job was the stage props and designs. Anyway, I only realized now while looking at these photos on how I ended up wearing an outfit that matches with the colors of our college (blue, gold and white) Not to mention how I seem so color coordinated with Bing and Jason, AKA our Nurse slash robots! LOL. I never planned for any of these things to happen, that's why I am so amused while typing this at 10PM. Or maybe it's because I'm ultra sabaw right now that everything I see starts being funny. Haha! On another note, I cannot wait for this week to end so I can finally, finally start enjoying my semestral break. This would probably be the toughest and most physically demanding semester I've ever had (nine different clinical duty rotations whaddup!) plus all the hours of seemingly endless lectures. I am not complaining though! I love my college for always going that extra mile and pushing us past our comfort zones. I have no doubt that all these experiences will shape us into becoming one of the best nurses in our profession. As what St. Luke's College of Nursing proudly shouts, when excellence becomes a tradition, greatness has no limits. :)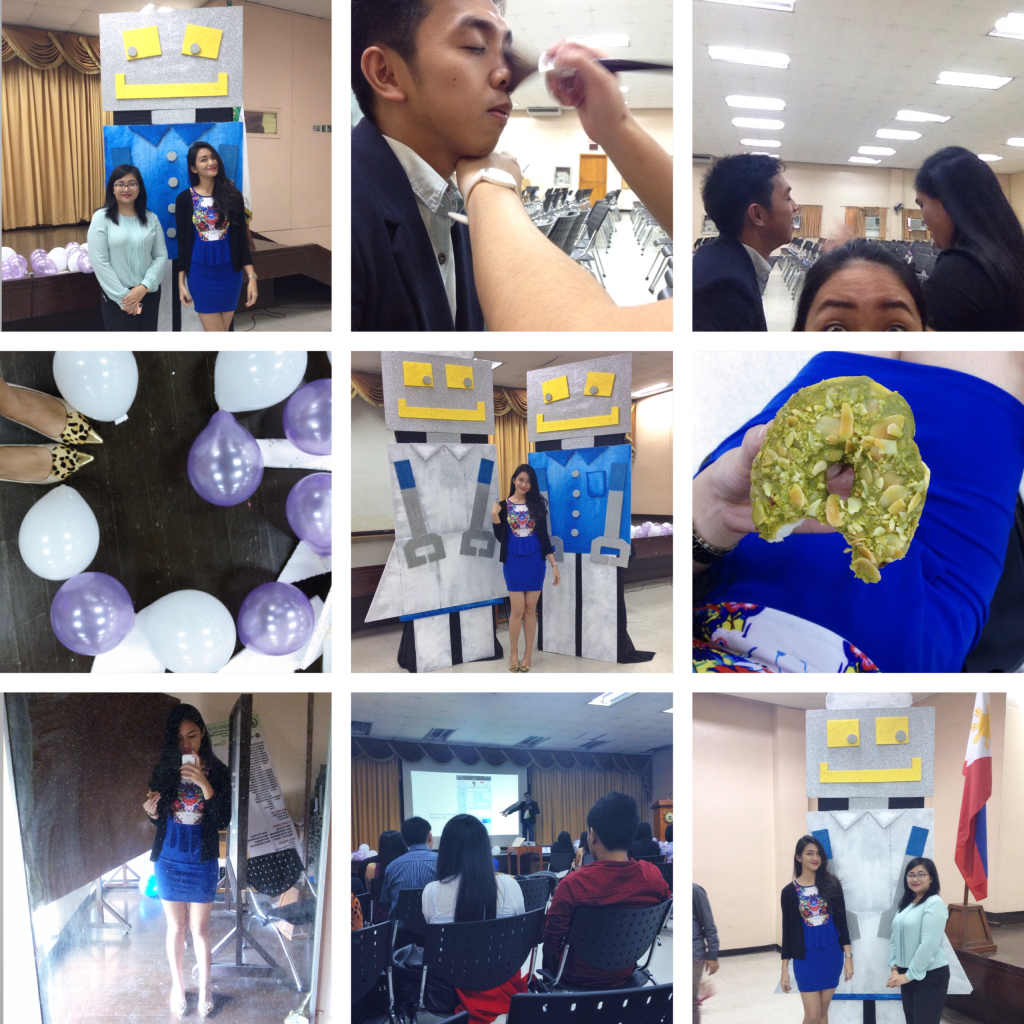 Kat and I, with Jason | Ade, getting chalked! | Hi. LOL. | Beware of sharps | All eyes on me… | Lunch | Finally got to see what the backstage of Mandell Hall looked like | A lecture about electronic charting. So exciting! | Kat and I, with Bing this time
That is all! Thank you so much for dropping by and have a great day ahead! :)
Like Get Laud on Facebok and follow them on Twitter and Instagram!
Photos by: Krizia Catapang
#self
#fashion
#outfit
#ootd
#ootdmagazine
#ootnmagazine
#Get Laud
#florals
#prints
#peplum
#blue
#school
#nursing
#SLCN