Monday, 2 December 2013
Smells like Teen Spirit + ROUX 28
Hype this look "Smells like Teen Spirit" on Lookbook.nu! Please hit that "fan" button too! <3
Plaid vest and Lace dress - courtesy of Fashion Finders
Hello! How have you guys been? I'm so sorry I've been MIA for the past week! School has kept me extremely busy and I only found the time to draft posts now! So anyway, here is another one of the outfits I modeled for my friend's online shop, Fashion Finders. Plaid and lace has always been one of my favorite combinations and this look definitely deserves a star in my book! Given a chance, this is something I would wear to an open concert or to a music festival!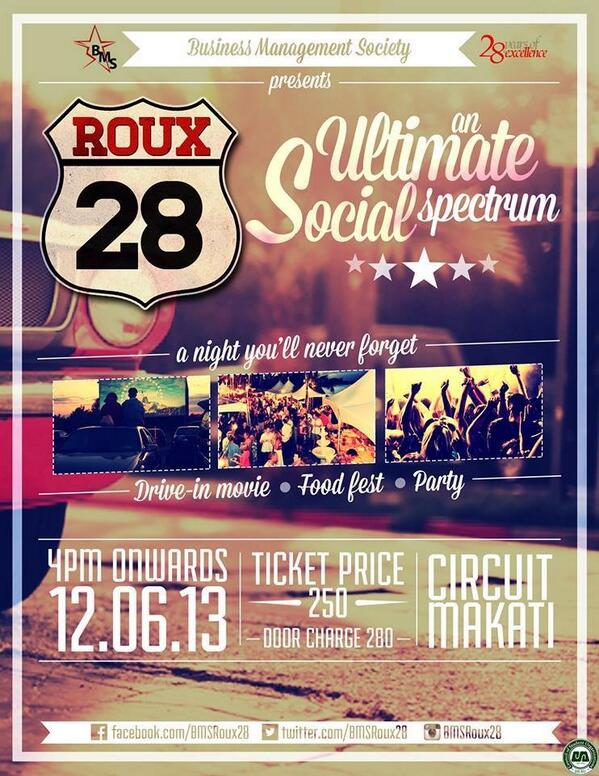 Speaking of which, something exciting is happening this coming December 6th! De La Salle University's Business Management Society proudly presents Roux 28 - a drive-in movie, food fest, and party all together in one night in celebration of their 28th year anniversary at Circuit Makati. Parties were never my scene (haha!) but the drive-in movie (I've never experienced one!) and a food fest (FOOD!) pulled me in like a moth to a flame! I happen to think it's also nice how while one is having fun with the multiple happenings at the event, one gets to help out various causes as well because the proceeds of this activity will be given to Jaime Hilario Integrated School (JHIS), Mano Amiga Academy Inc., and the victims of the recent Typhoon Yolanda. It's like hitting two birds (in the case, four!) with one stone! Haha! So, will I see you there? :)
For more information, you can check their Facebook page and follow their Twitter and Instagram accounts.
Photos by Krizia Catapang
#self
#fashion
#outfit
#ootd
#ootn
#ootdmagazine
#ootnmagazine
#ootdpilipinas
#TumblrFashionBloggers
#Fashion Finders
#hair
#charleneajose
#plaid
#lace