Check out my article on @beautybookph! Hair Conditioning 101: Are you doing it right? http://www.beautybook.ph/hair-conditioning-101 #self #articles #beauty #beautybookph #hair #haircare #conditioner #creamsilk #charleneajose
Last April 27th, I visited Soiree Salon and Spa in Katipunan to get my hair re-permed. I brought my Mama along too because they invited me to try their Mother's day promo. Anyway, let me now take you through what happened in photos!
First off, we were given complimentary drinks. They offer iced tea, coffee or hot chocolate.
Tommy! Haha!
Let me tell you about the treatments Mama got first! Their Mother's day pack has three parts: shampoo style and scalp massage, manicure and pedicure and lastly, a foot scrub. Mama got a papaya scrub instead of the milk and oats though since we came before the actual launch of the promo (the stuff needed for original scrub didn't arrive until May 1st) What I love about Soiree Salon and Spa though was that they informed us ahead of time about the changes in the treatment.
I asked Mama about the experience afterwards and she said she had a pretty good time, and that her favorite was the hair treatment. She also commented on how accommodating the staff were. Mother's day is just around the corner! Check this out for the full details of the special Mother's day package!
My hair, before the re-perm.
After a whole lot of thinking and a few sleepless nights (Okay, not really. Haha!) I finally decided on whether to grow out my curls and go back to my natural straight hair or have my hair re-permed. I had my hair permed for the first time last November 2012, and even though I sometimes miss my long hair, I agree with the majority that permed hair looks better on me. It's also easier to style! Anyway, my hair went through almost the same process as my first perm. The only difference is that Soiree uses the non-liquid approach. First, they shampooed my hair. Then Ken (their much celebrated stylist!) applied the chemical cream that would give me my curls. I then had to wait 15 minutes and then had it rinsed out afterwards. I'm one of those girls blessed with fast growing hair, so I asked Ken to cut off a few inches. He actually recommended it also since longer hair would mean more weight and the heavier the hair the shorter the duration of the curls will last. I also asked to have my fringe back (I missed having bangs!) and I was in full trust because I've read that Ken is a scissor master (and he is!) Then it was time for the rolling. What I love about Soiree was how they value quality service. Ken was really obsessive compulsive when it comes to putting my hair in the rollers (I could tell! One fallen strand was all it took for him to re-roll it again!) I was then hooked to the machine and waited for another 20 minutes. After that, the rollers were disconnected and we waited for my hair to cool. A nuetralizer was then added, and 10 minutes later, my re-permed hair was ready! 
Another thing I love about Soiree is that they never force you into buying products you don't really need. Actually, no mention of hair products ever transpired during the whole of the treatment. In all honesty, Ken actually gave me tips on how to properly dry my bangs so that it could be placed either on the left or the right, that lotion can be used on hair and the various ways you could style permed hair, all in a candid stylist to client way. The other staff (Ken's assistants. Yes. He is the only stylist. Amazing right!) we're also very gracious as well! They treat all customers the same (I can get pretty observant if I wanted to) and the delivery of their services was fast and efficient.
Finished product! Look at those waves!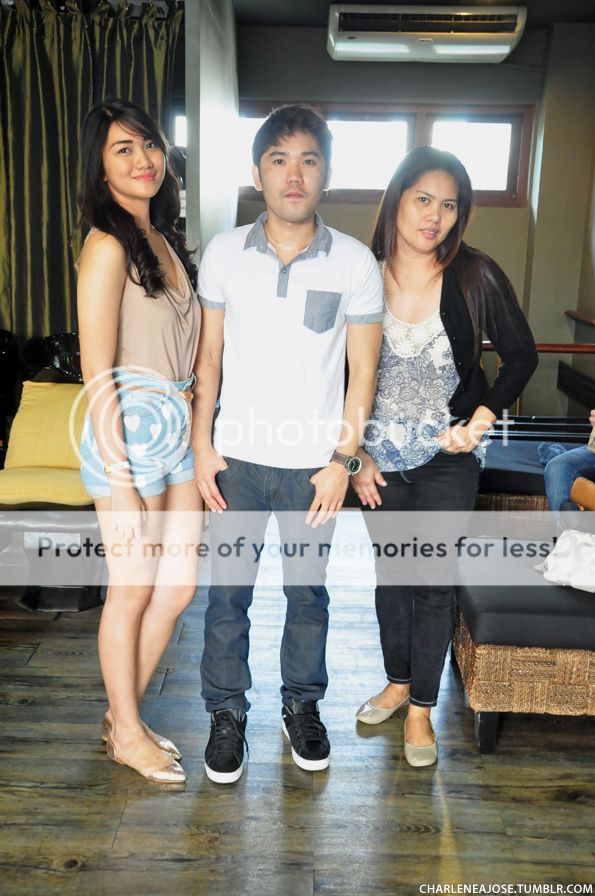 Thank you, Soiree Salon and Spa! My Mama and I had a wonderful time! Keep updated on their latest promos by liking them on Facebook and following them on Twitter. You can visit Soiree Salon and Spa at 138 Katipunan Ave. Ext., Brgy. St. Ignatius, Quezon City. You may also contact them by calling 911-8772 or 0922-8500069 or by sending an e-mail to soireesalonandspa@yahoo.com


Photos by: Chelsea Ajose and I