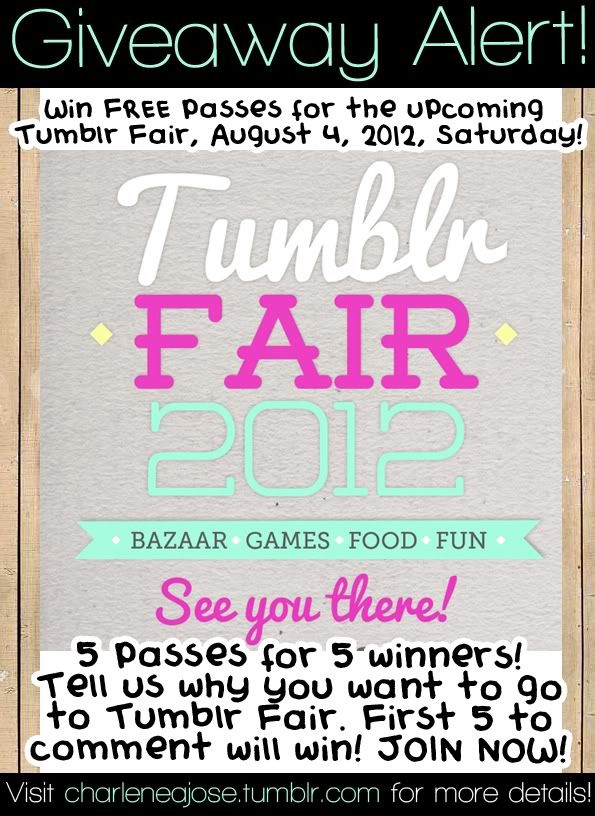 I, together with my friend Dasha, will be selling our stuff during the Tumblr Fair! (View this post for more details) I would very much love to meet you guys, so here's a quick giveaway for you to get free passes!
Before you join this giveaway, make sure that you can go to the Tumblr Fair, August 4, 2012 at the San Juan City Gym, San Juan City.
You have to do everything for your entry to be valid.
1. Like Charlene Ajose and Tumblr Fair on Facebook.
2. Follow Charlene Ajose and Tumblr Fair on Twitter.
3. Leave a comment on why you want to go to the Tumblr fair plus your complete name, e-mail address and twitter username on the Disqus comment box found at the end of this post.
That's it! First five people to comment will win! Winners will be announced on my Twitter account. Best of luck to everyone who will join! :)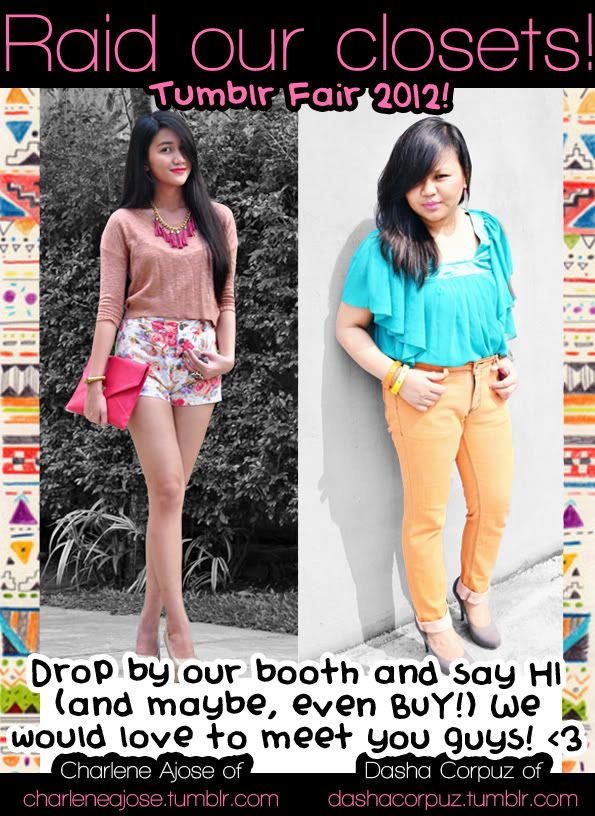 Hello everyone! I'm interrupting your dashboards to say that I, together with my most fashionable nursing slash blogger friend Dasha Corpuz will be selling items for Tumblr Fair 2012! Spell clothes, accessories, bags and of course, shoes! There will be tons of games and other exciting things as well so I suggest you save the date! In the mean time, here are some important things and links for you guys to take note of.
What: Tumblr Fair 2012

When: August 4, 2012; Saturday; 8am-6pm

Where: San Juan Gym, San Juan City
This would be our first time to do something like this, so we are hoping for your full support! Drop by our booth to say hi, and make us kilig by deciding to buy! I'll be posting some photos of the things I'll be selling soon, so watch out for that. 
Like Tumblr Fair on Facebook and follow them on Twitter for updates.
I would love to meet my readers! Will I see you there? Yes? Yes! RSVP now. See you guys soon! :D
(Source: charleneajose)