Monday, 28 January 2013
The Boyfriend Shirt
Hype this look "The Boyfriend Shirt" on Lookbook.nu! Please hit that "fan" button too! <3
Light blue denim shirt - courtesy of Wrangler Philippines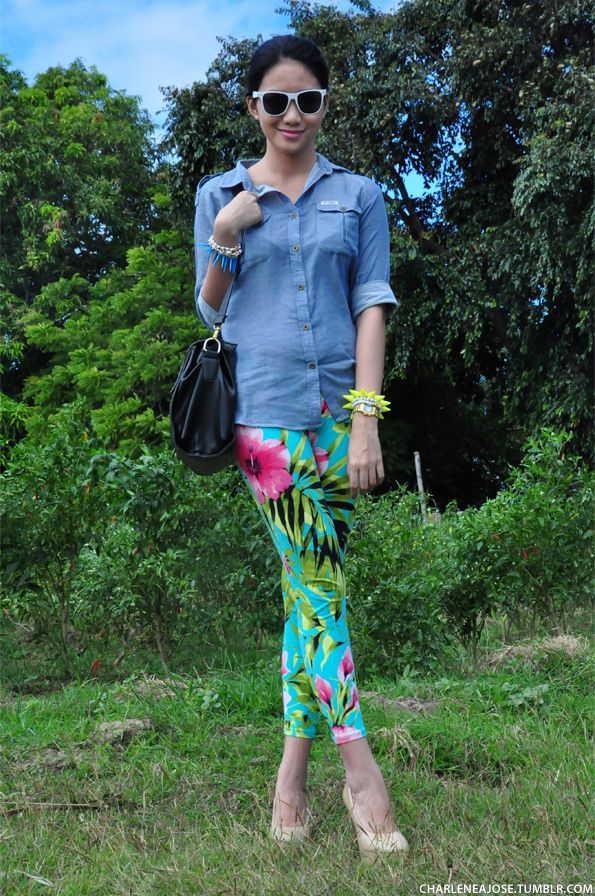 Tropical printed leggings - courtesy of Fashion Infinity, Black satchel bag - courtesy of Kaymar Alekzis Bags
Blue spiked bracelet, skull bracelet and white beaded bracelets - courtesy of  Be Always Fierce, Neon yellow spike bracelet - courtesy of Twinkies Inc.
Nude heels
Hello! This is what I wore to the first day of 2013 (Whoa!) when the family and I went to our annual trip to Nueva Ecija. One thing you should know about me is that I absolutely love going on road trips. So whenever trips like this happen, I always make sure that I am dressed in comfortable clothes that will look great pre and post-travel time. Be honest. Wrinkle free or not, this shirt will look great no matter what. Do you remember the Wrangler denim shirt I've raved about in this post? Well I got another one, in a similar style only this time with a lighter color and material. I honestly think denim shirts are the 'perfect white tees' right now because you can pair them with absolutely anything! This time, I opted to wear it with my striking leggings from Fashion Infinity. Balance is always the key! If you can't think of anything to wear with bold printed items, go for the basics!
I'm pretty sure this is another one of those items I am sure to overuse! Head on over to Wrangler stores now and get the perfect denim shirt for you!
Anyway, I have to sleep now. Early duty call times call for early bedtimes! Please don't forget to join my ongoing giveaways (I have FOUR!) before you sleep! Thank you so much for reading and have a good night! :)
Photos by: Chelsea Ajose
What do you think of this post? Comments are always appreciated! :)
#fashion
#outfit
#self
#TumblrFashionBloggers
#Wrangler
#Fashion Infinity