Tuesday, 4 December 2012
Virgin hair no more: Digital Perming at AZTA Urban Salon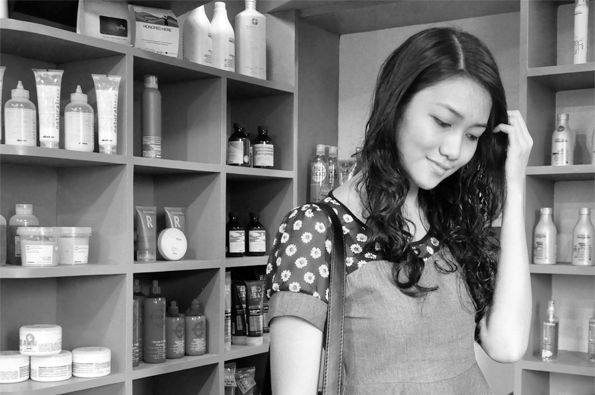 There will come a point in your life when you will decide to do something you've never done before. Drastic or not, it will jump start a chain reaction that will help pedal a new you to go nowhere but forward. I am a firm believer of the phrase 'You only live once' (the good kind) so when AZTA Urban Salon contacted me asking if I would like to try out their services, I immediately said yes!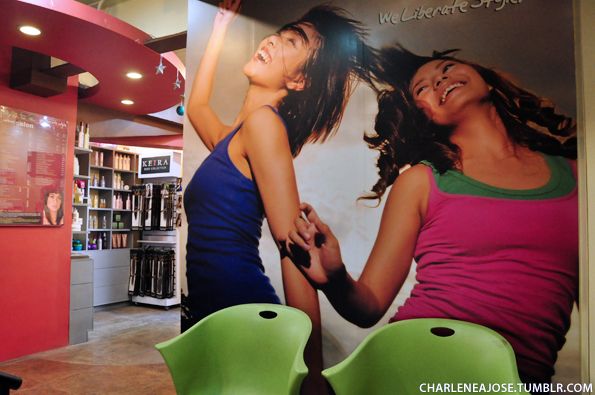 Three words will come to mind when you hear of AZTA Urban Salon. Hip, Stylish and up to date. AZTA Urban Salon is a made up of passionate and creative individuals who constantly scour the latest trends to keep up with their customers ever changing needs and wants. Last November 22nd, I went to their branch in Katipunan to avail of their Digital Perming service. You might have stumbled upon this post because you were curious on what digital perming is, the process, what the end product will be and so on. Like you, I went through numerous blog posts too before finally deciding to get my hair permed. With that, I promise to make this post as informative as I possibly can! :)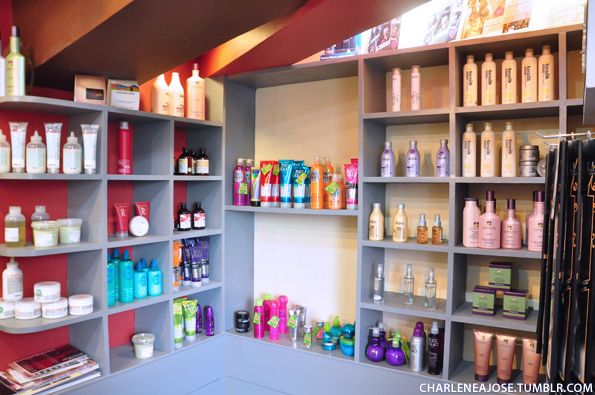 Some important facts you need to know:
1. I have virgin hair, meaning no treatments/processes has been done to it aside from the regular haircut and blowdry. 
2. The digital perming process takes about 2-4 hours depending on the type of hair you have. We started at 10:30am and ended up at about 12:45pm.
3. Not all hair types is apt for digital perming. It is best to consult their stylists beforehand. This is free of charge!
Left: What my hair looks like unstyled. I've always had straight, black hair ever since I could remember. Before I had the treatment, my hair falls down to waist level.
Right: Before anything else, Ate Rose (my assistant for the day) shampooed my hair. You can opt to choose between a warm or cold rinse. I chose the latter.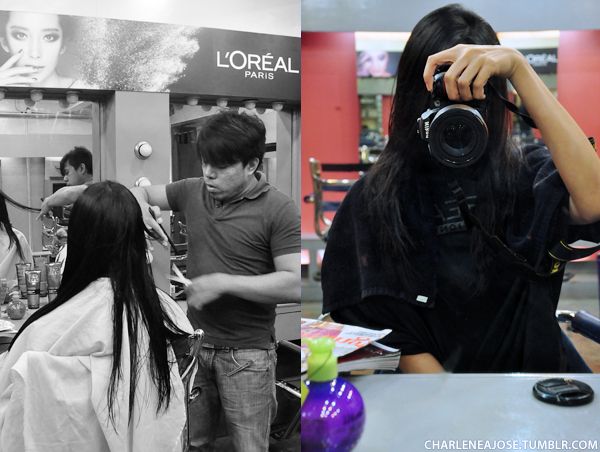 Left: To further appreciate the curls, I had to have my hair layered. The stylist, Sir Chris, helped me decide on what length is appropriate.
Right: After a quick blow dry, here is my now layered hair.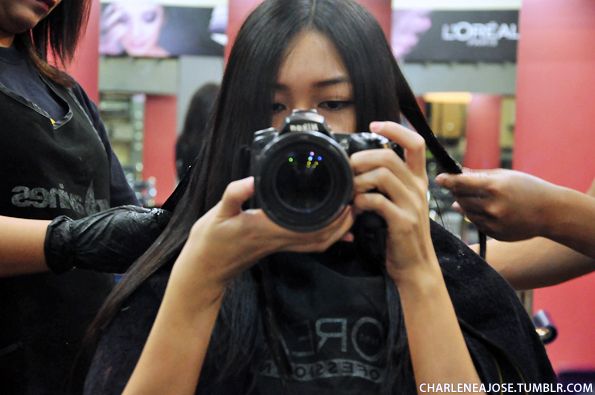 The next step was applying X-Tenso from L' Oreal. Sir Chris told me that this will help align the strands of my hair to form straight bonds. A warning for the weak: The smell of this chemical is very strong (think of burned rubber) I am used to unpleasant smells (Nursing student! Hehe!) so if you're squeamish and all, at least you now know what to expect!
Next, it was time for the curling! Another tip. If at this point you feel like going to the comfort room, do it now. Going back, Sir Chris and Ate Rose took sections of my hair and secured them into these mini rollers. They were a bit heavy but the weight was manageable. I asked how many they placed and said I had 20 pieces. I got the ones that will give me medium curls. I wanted to try the large ones but they told me that over time, the large curls will just end up in waves and that I wouldn't really appreciate it that much. Hey, they're the experts!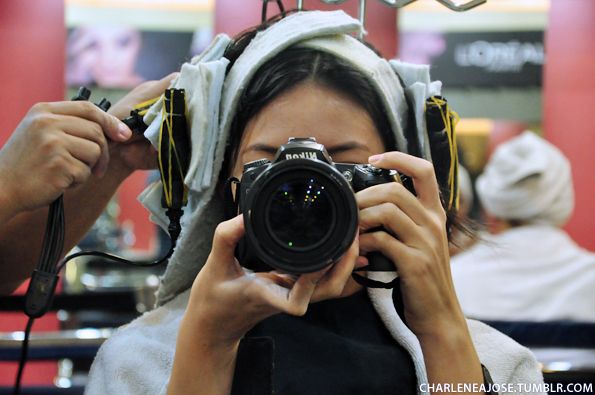 After the mini curlers, Ate Rose placed pads under each one. These serve to protect your scalp from the heat that will be emanating from the curling machine (LOL sorry I do not know what is is called! Haha!) The machine was then hooked to the curlers, and the twisting began! Ate Rose warned me to not panic when I hear rubber bands popping because it was normal due to the heat. I didn't experience any breaking rubber though so thank goodness for that!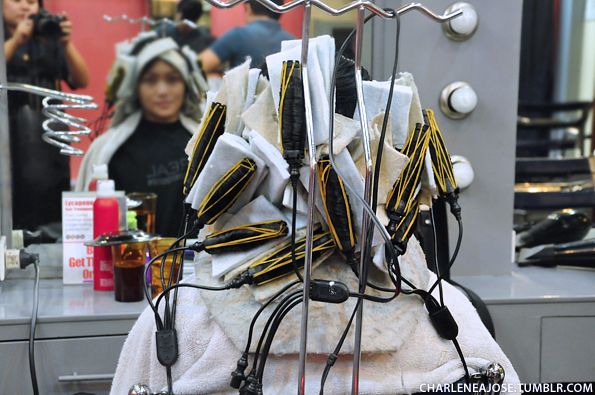 The pads make this whole set-up extra heavy, but again, it was manageable. Tiis ganda! Also, if you're wondering if I felt any heat or anything, I didn't. Good job, Ate Rose! :)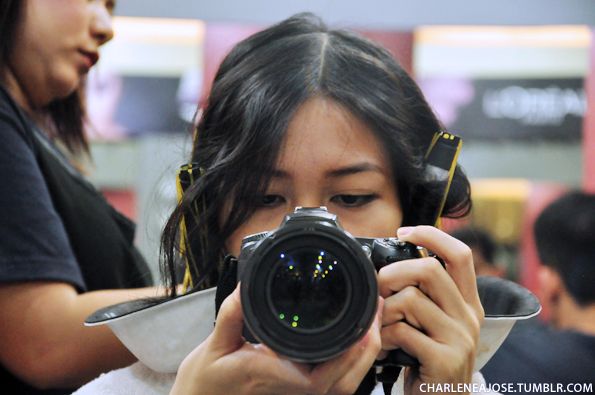 After 30 minutes, the machine was unplugged from the curlers. I had to wait at least 10 minutes for my hair to cool down before the next step, which was adding the nuetralizer. Unlike the first chemical (X-tenso) this smelled really good. I had a basin propped above my shoulder to catch any excess fluid.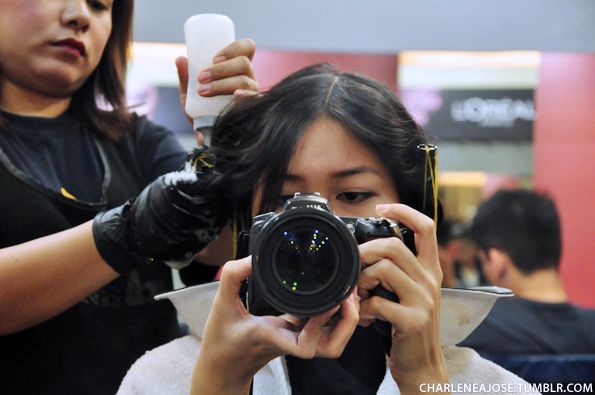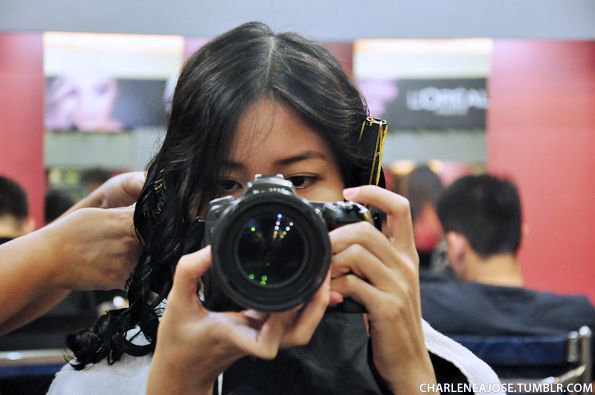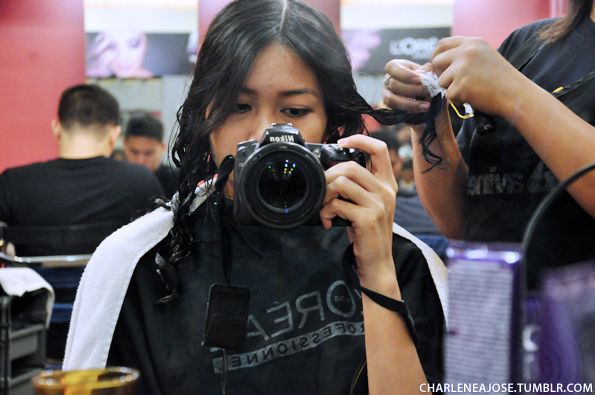 The curlers were then removed. I was slightly panicking inside thinking 'Oh no my hair is so short!' but I caught myself and waited until the treatment ends before I made any judgments. After all the curlers were gone, I had another quick rinse.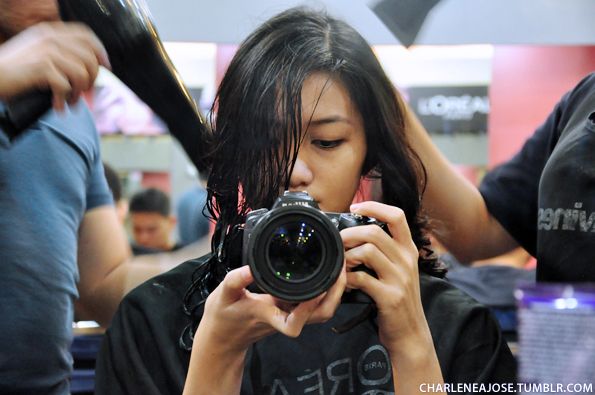 We're almost there! Here is a photo of me having my hair blowdried by Sir Chris and Ate Rose.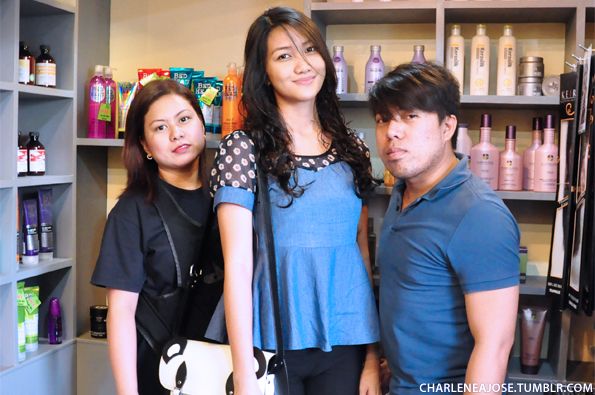 I don't know if I should really put it here but I was in a bit of a hurry that time because my Grandmother passed away while I was having my perm (Yes, I know. Things like that don't happen on normal days) I would therefore like to take this opportunity to send my thank yous to Sir Chris and Ate Rose for being so attentive and sweet. They even brought me tissues and water, and offered condolences. Hi, you two, if you are reading this! Thank you so much for being so nice to me! :)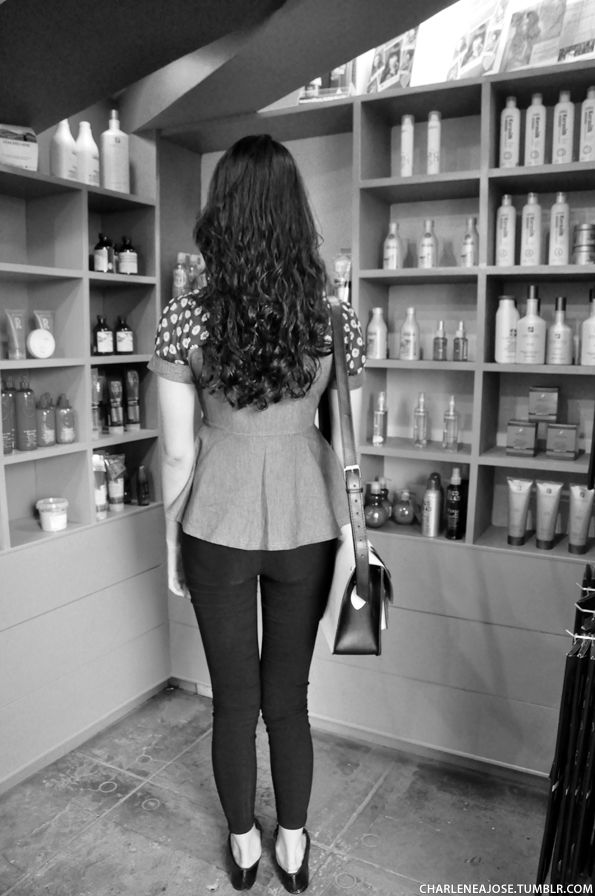 And here's how it looks like after! The stylist said that it will loosen in a couple of days, and what I see now won't be how it will look like in the coming days. I'm writing this post a little over a week after I had my perm, and I am loving my curls! Of course, I've had doubts on whether I should get this treatment, but I'd rather go through a few bad hair days (I am saying this based more on assumptions than actual experience haha!) than spend the rest of my time thinking about the what ifs and what could have beens if I didn't. I guess sometimes all we have to do is take that jump just to know what it feels like to fall. :)
My sincerest thank you's to the whole AZTA Urban Salon Team for being so accommodating and being so game to help me take photos (Hello, Ate Josan!) Special thanks also to Chloe Lopez-Tan!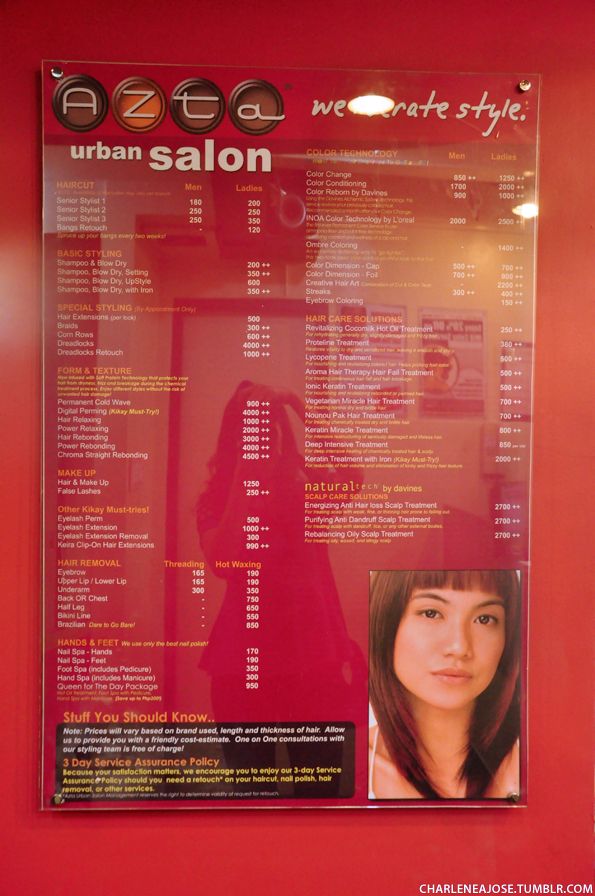 To know more about AZTA Urban Salon's services, go and visit their Facebook page. To book an appointment, contact any of following branches directly:

Katipunan Avenue 4346733
Robinsons Metroeast 6822107
Eastwood City 6876527
Alabang Town Center 6592249
Robinson's Pioneer 6873289
SM San Lazaro 3531344
What do you think of this post? Comments are always appreciated! :)
(Source: charleneajose)
#self
#hair
#sponsored post
#digital perming
#perm
#digiperm
#AZTA Urban Salon
#firsts